THERE ARE SOME SPOILERS FOR THE SECOND SEASON OF THE MANDALORIAN AHEAD
As a man with two daughters (whom I love dearly), I didn't have great expectations that there would be someone like me. This just goes to show that although I am a biological scientist, my grasp of genetics is somewhat flaky—to say the least! Not everything is channeled through sex-differences.
In fact, I have learned a lot about myself as I have observed my children grow up. I even wonder whether Gene Wolfe's classic novella and title story that begins the book The Fifth Head of Cerberus was inspired by his own observation of his children.
My youngest daughter returned from her Scottish Art school and her studies in animation rather abruptly around a year ago, just as lockdown was about to start and as her university switched to remote learning. She finished her studies by distance and despite the traumatic extraction, passed with flying colours.
Not surprisingly, given the subject of her degree studies, she had subscribed to Disney plus, and in common with her Dad has a soft-spot for SF and fantasy, particularly in in the visual arts. Consequently, she's been a willing companion for the three science fiction World Conventions that I have attended. So, she invited her parents to watch The Mandalorian with her. It's one of the better Star Wars spin-offs, and whilst the titular character is interesting and well-drawn, it's The Child, a member of Yoda's species, who steals the show. I knew she was was labouring away on some work of art for my Christmas present, but I was firmly excluded from watching the process. She considers herself a digital artist but also works with physical media. Nevertheless, the present I received was painted digitally. My jaw dropped when finally I saw it. Here it is in all its glory below.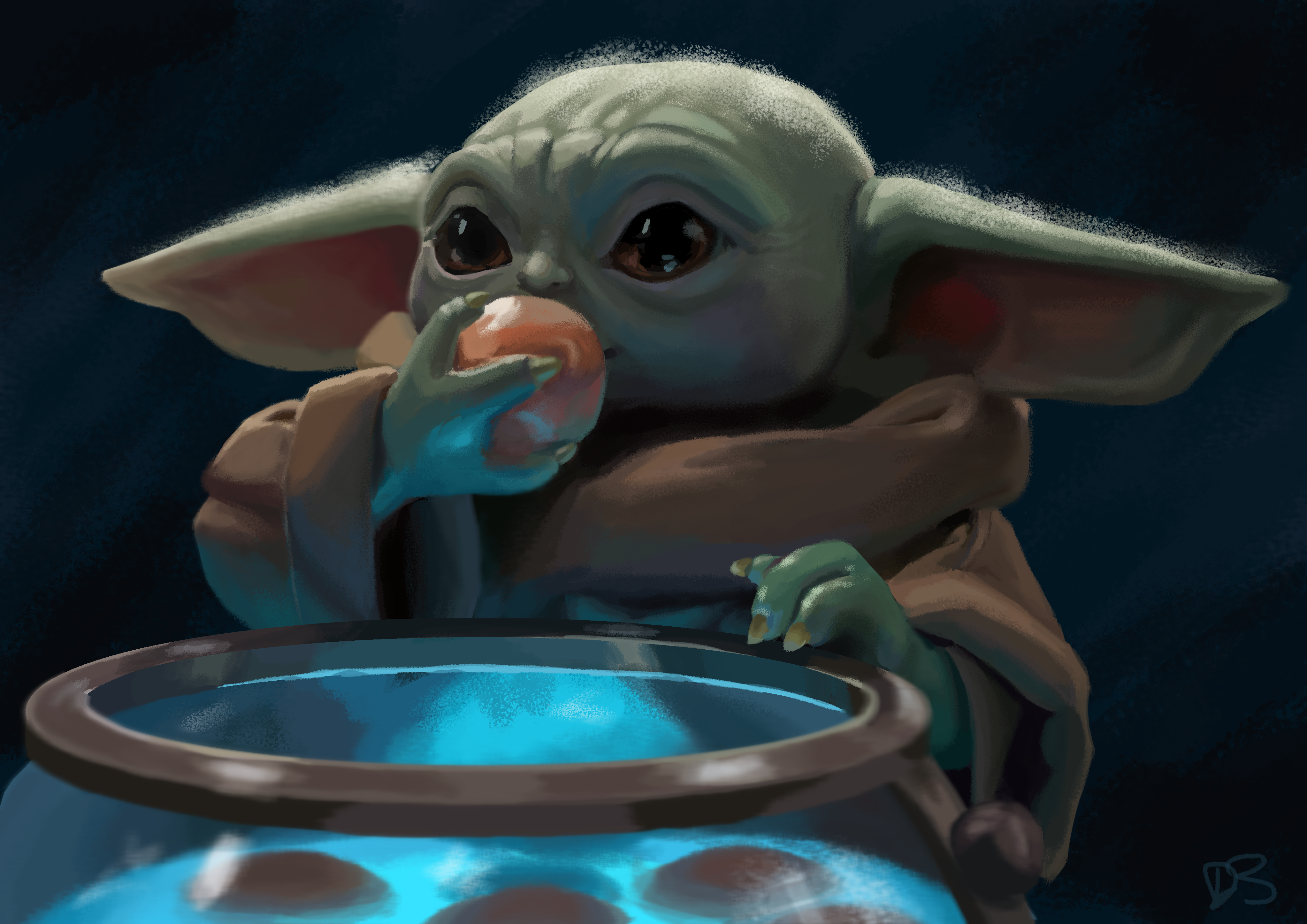 We had some debate about the eggs he's eating, belonging to the poor frog lady. I argue that it's just like eating chicken eggs as they were unfertilized, given the story was their journey to find her husband for the fertilization job. None-the-less, they were the last of their species… If you want to see more of her art, follow her on Instagram:@pandaswings –and here you can also see how she built up the picture.
After this burst of blog activity, another announcement will follow shortly—watch this space…